Highlights
Millions of people imprisoned in quarantine camps in the name of Corona in China
Communist China is not sparing even pregnant women, children and old people
Cities with a population of more than 50 lakhs were closed after two cases.
Beijing
China, trying to eliminate the corona virus, is committing terrible atrocities on its own citizens. Millions of people across the country have been quarantined in the name of corona infection. These people have neither food nor any arrangement of electricity and water. Many people have been imprisoned together in small rooms made of iron and aluminum. The strictness is so much that even pregnant women and children are not being spared.
20 million people imprisoned across China
Due to China's zero covid strategy, about 20 million people are imprisoned in their homes across the country. These include the cities of Anyang and Yuzhou in addition to Xi'an. People of these cities are not allowed to step out even to buy food and drink. China imposed a lockdown in Anyang, a city of 5.5 million people, late Monday after two cases of Omicron were reported.
Thousands of people being kept in secret caps
According to the BBC report, China is imprisoning thousands of people in quarantine camps on the outskirts of Xi'an city. The people imprisoned in these camps have told in the report that pregnant women, elderly and children have also been kept there. They have also told the horrors of the detention camps in the zero covid state.
Xi'an Lockdown: 13 million people of China are starving, imprisoned in homes for 9 days, if the latch is opened then it is not good
Video revealed Chinese atrocities
A video being shared online shows people in small boxes equipped with wooden beds and toilets. In this place they are forced to stay for two weeks. Some people wearing PPE kits are seen giving food to the people imprisoned in these camps. Those who were imprisoned in these quarantine camps have told that they were given very little food.
Eyewitnesses told the reality of China
Residents of Xian's Mingde 8 Yingli housing compound were sent to quarantine camps because they were standing in the same line for a corona test. These people were asked to stay in the quarantine camps on January 1. After which an eyewitness told that 30 buses reached the housing compound at midnight and left with 1000 people.

A total of 1500 cases of corona in Xi'an, China … and 1 crore 30 lakh people in lockdown for 10 days
workers beating people on exit
In a video, the man imprisoned in the camp said that there is nothing here, just basic necessities… no one has come to check us, what kind of quarantine is this? They did not make any proper arrangements and we were kept casually. Footage showed a man outside the camp being beaten up by an epidemic worker who had come out of his room to buy some items.

Corona returning to China! Crores of people imprisoned in homes after cases increased, strict lockdown imposed
China increased strictness before the Winter Olympics
China has increased the strictness ahead of the Winter Olympics starting on February 4. Business investigation of people is being done in many big cities of the country including Beijing. People who go out without masks are being sent to jail. Not only this, there are many areas where people are not being allowed to leave without getting infected.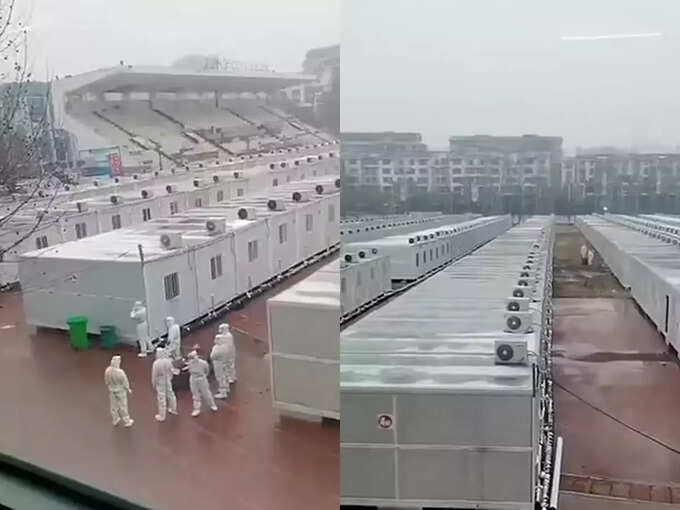 Thousands imprisoned in secret camps in China
.