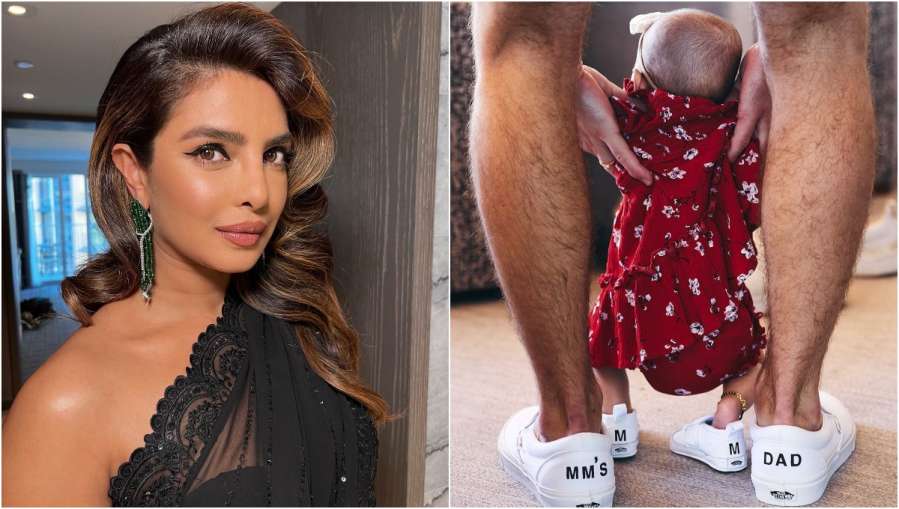 Highlights
Priyanka Chopra shares picture of daughter Malti Mary
Priyanka gifts matching sneakers to Nick and Malti
Father's Day postActress Priyanka Chopra always remains a part of the headlines. On the occasion of Father's Day last day, Priyanka shared the first glimpse of her daughter with everyone. Priyanka and Nick welcomed their daughter Malti Marie into their lives through surrogacy earlier this year. Baby Malti came to Priyanka's house on the occasion of Mother's Day. Before that she was in NICU for few months.
Priyanka Chopra also shared a post welcoming her daughter. Meanwhile, now on the occasion of Father's Day, Priyanka and Nick have shared a picture with their little girl. Not only this, on the occasion of Father's Day, Priyanka has also given a special gift to Malti and Nick. Whose picture he shared. Sharing the post, Priyanka wrote in the caption – "Happy first father's day my love. It is my greatest pleasure to see you with my little girl, what a wonderful day to be back home. I love you, here more There's a lot too."
While sharing the same picture, Nick Jonas also wrote – First Father's Day with my little girl. Thank you Priyanka Chopra for the wonderful father-daughter sneaker and for making me a father. I love you so much. Happy Father's Day to all the dads and caretakers.
However, Malti's face is not visible in the picture. Priyanka has gifted matching sneakers to Nick and Malti. While M is written on Malti's shoes, MM is written on one of Nick's shoes and DAD on the other. In the picture shared, the actress' daughter Malti is seen wearing a red floral dress.
Let us tell you that the fans were waiting for the first glimpse of PC's daughter for a long time. But still the wish of the fans of the actress remains unfulfilled. Because Malti's face is not visible in this picture.
also read