br>
Highlights
Vajpayee used to talk about Insaniyat, Jamhooriyat and Kashmiriyat.
Later Kargil war, Parliament attack-like response shocked the country
Now is the Modi government's decision to remove 370, make a union territory more correct?
New Delhi
BJP founder and former Prime Minister Atal Bihari Vajpayee spoke of one principle for Kashmir – Insaniyat, Jamhooriyat and Kashmiriyat. The former PM used to talk about three pillars which defined his Kashmir policy. This was humanity, democracy and syncretism. Vajpayee's words were understood by all and his words were repeated by subsequent governments. But since then a lot of water has flown in Jhelum, often the color of the water was bloody pink. Novelist Ashwin Sanghi has written an article in our partner newspaper Times of India and reviewed the Kashmir strategy of Modi government from Vajpayee's time. Let's know.
Sanghi writes that Vajpayee's principles and the spirit of generosity expressed through the Lahore bus tour were answered in the form of the Kargil War, the IC-814 hijack and the attack on the Parliament of India. Further Prime Minister Manmohan Singh's Srinagar-Muzaffarabad bus service got the reply as 26/11. This cycle was not going to stop any further. Prime Minister Narendra Modi suddenly lands in Lahore and meets Nawaz Sharif in 2015 but is followed by Uri, Pathankot and Pulwama. So, shouldn't we ask ourselves whether Vajpayee's theory was more idealistic than practical?
Army Day 2022: Daughter was three years old at the time of martyrdom, after seven years came War Memorial and paid tribute to father
Three parts of Vajpayee policy
We understand the first of the three parts of Vajpayee's Kashmir policy – Insaniyat or Humanity. The word Humanity comes from Latin 'Humanitas' which means human nature and kindness. But humanity has been missing in the area for a long time. It is estimated that from 1989 to 2002, terrorism took the lives of about 40,000 people. In the two decades from 2000 to 2020, 21,813 people have lost their lives. This included 4,879 civilians, 3519 security personnel, 12997 terrorists and 418 others. There is a horror hidden behind every death.
In 1990, a Kashmiri Pandit named Ashok Kumar Qazi was shot. But before his death, heinous acts were also done. His knees were broken, his hair was cut and his body was urinated on. In 2017 police officer Mohammad Ayub Pandit was killed by a mob of 200 people outside Jama Masjid. He was stripped naked and beaten up with stones and iron rods. His body was found in a mutilated condition. Where is humanity in this madness?

Exclusive: Parachute regiment carrying out surgical strikes will be seen in the new combat uniform
How far is the Jamhooriyat?
Let's talk about the second pillar – Jamhooriyat. It comes from the Ottoman Turkish word Cumhuriyat. It means republic or democracy. There are some people who selectively remind India of their commitment to referendum but they forget to mention UN resolution 47 that Pakistan should unconditionally withdraw all its citizens which never happened. Politicians who call the abrogation of Article 370 and turning the state into a union territory murder of democracy forget the rigging of the Jammu and Kashmir assembly elections. They don't talk about rigging the 1987 elections, they forget that the killing of democracy was common between 1951 and 1983 except in 1977 elections.

Remember the pain of Valmiki community!
It should also be remembered that before the abrogation of Article 370, the life of the Valmiki community was spent only in cleaning, they did not have the right to live permanently, the right to vote, access to higher education and government jobs. . Doesn't Valmiki fall into the Jamhooriyat?
Snowfall In Jammu-Kashmir: Heavy snowfall in Kulgam, Kashmir, snow being removed by machine, watch video
Who is called Kashmiriyat?
Now let's talk about Kashmiriyat, which expresses the tradition of communal harmony and religious solidarity of the region. But it has been only a few weeks, when Makhan Lal Bindro, a respected chemist from Srinagar, was murdered by terrorists. After this the school principal Supinder Kaur and a Bihari handcartman Virendra Paswan and a school teacher Deepak Chand were murdered. These killings have been happening continuously since the 1990s. It was because of the killings in the 90s that Kashmiri Pandits had to leave the Valley. At that time there were advertisements in the newspapers that the Kashmiri Pandit community should leave the Valley, posters were showing that Hindus should accept Islam and join the path of separatism. In such a situation, the question is, where did Kashmiriyat go when Kashmiri Pandits were being threatened from mosques to leave their homes?
Shopian Snowfall: Army personnel carrying pregnant woman on shoulder amid heavy snowfall, watch video
What should happen if Insaniyat, Jamhooriyat and Kashmiriyat cannot become the basis of peace? In such a situation, three new words of Urdu come – Mayshat, Hifazat and Aabadiyat – economy, security and demography. To create economic prosperity and increase employment, focus on internal and external security and encourage migration from other parts of the country. In such a situation, it should be seen that this is what the Modi government is doing gradually, right?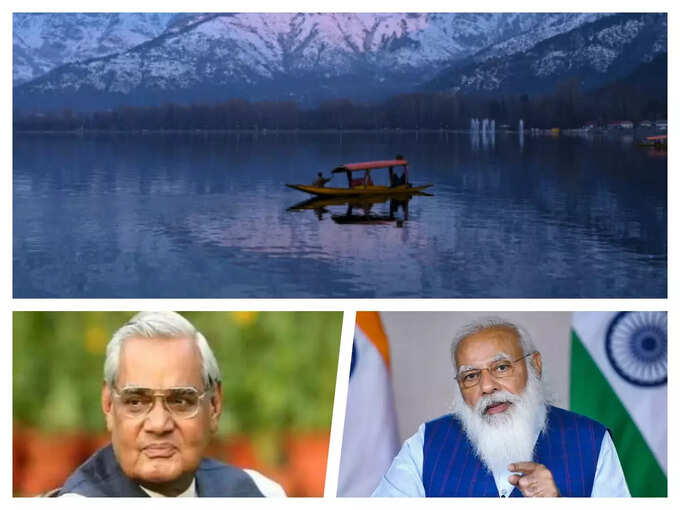 ,