br>
Bulldozers are going on daily against encroachment and illegal construction in the capital Delhi. Today MCD action is taking place in Amar Colony, East Kailash, Rohini area. A large number of CRPF and police personnel have been launched on the road. Aam Aadmi Party MLA Amanatullah Khan reached Madanpur Khadar to stop the action of the bulldozer. Earlier, he had tweeted and said, 'MCD in Madanpur Khadar Kanchan Kunj is demolishing the houses of the poor. I am reaching there, all of you should reach so that the houses of the poor are saved. AAP MLAs had also reached Shaheen Bagh in the past when a bulldozer came to demolish the illegal construction. There was a lot of ruckus that day and questions were also raised on the action of MCD. Even today, a similar sight was seen in Madanpur Khadar.
Fierce ruckus in Madanpur Khadar
There is a strong protest against the MCD who went to remove the encroachment in Madanpur Khadar. Stones were also pelted at the police in this area. Local MLA Amanatullah Khan has been taken into custody. Here the ruckus has increased after stone-pelting on the police.
Five-storey building is also being demolished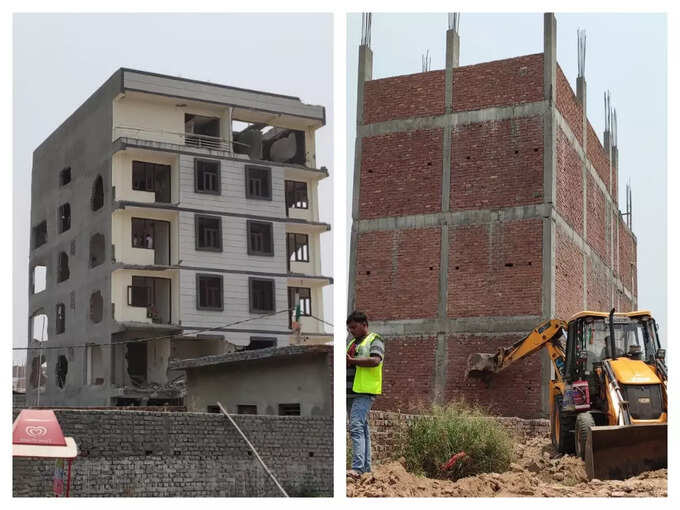 On seeing the bulldozer in Madanpur Khadar, the protest started. People say that suddenly this action is being taken. The tall building that is being demolished was built only a year ago. A local person told that he used to live in this five-storey building. They were fired on the grounds that there might be injuries. He said that no notice came, suddenly today the bulldozer came. It is being told that the owner of the building lives in Shaheen Bagh. There is another four-storey building nearby, which is also being demolished.
If my arrest saves the houses of the poor then Amanatullah said
Aam Aadmi Party MLA Amanatullah Khan has termed the action of MCD in Madanpur Khadar illegal. There was loud sloganeering. Khan said that if people's houses are saved by my arrest, then arrest them. In fact, after their arrival, the police feared that the law and order situation would worsen. The police appealed to the people not to raise slogans but after the arrival of Amanatullah Khan, the protest intensified.
The AAP MLA said that he will stand with his people. Delhi Police asked Amanatullah Khan to surrender. But Amanatullah said that they (MCD) had to go to Badarpur, there are BJP MLAs, not going there, these people came here. Madanpur Khadar is not mentioned anywhere in the list. Khan said that the police is saying that you are disturbing law and order but I did not push anyone, no stone was pelted. Saying that you are obstructing government work… If you break the houses of the poor, then I will come. Amanatullah said that there is no encroachment here. If action is taken illegally, then entire Delhi will give arrest. Amanatullah himself was seen raising slogans. Seeing the commotion increasing, the police announced to the mic that you guys go away or else legal action will be taken against you.
Slogans against bulldozer action in Madanpur Khadar
Amanatullah Khan sitting on dharna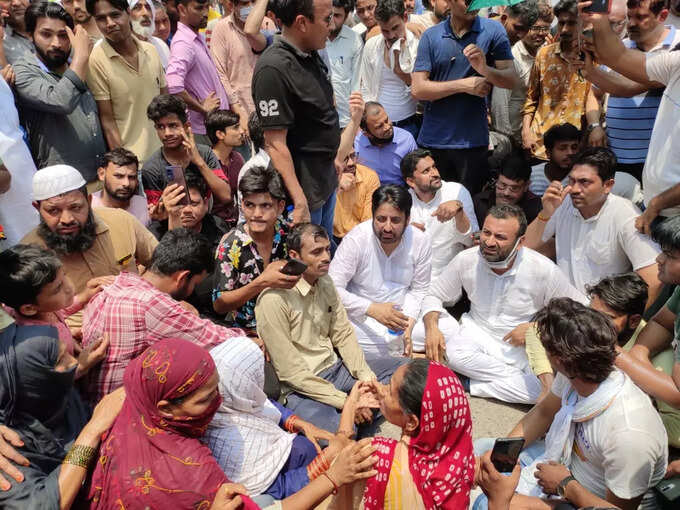 As soon as AAP MLA Amanatullah Khan arrived, the protesters joined him. The commotion continued for some time and finally Amanatullah Khan sat on the dharna. He kept saying time and again that there is no encroachment here and if any encroachment is found, he is ready to cooperate with MCD in demolishing it.
Today, anti-encroachment drive is going on in Madanpur Khadar, Rohini as well as in Prem Nagar area of ​​Patel Nagar.
Jhuggis were demolished in Rohini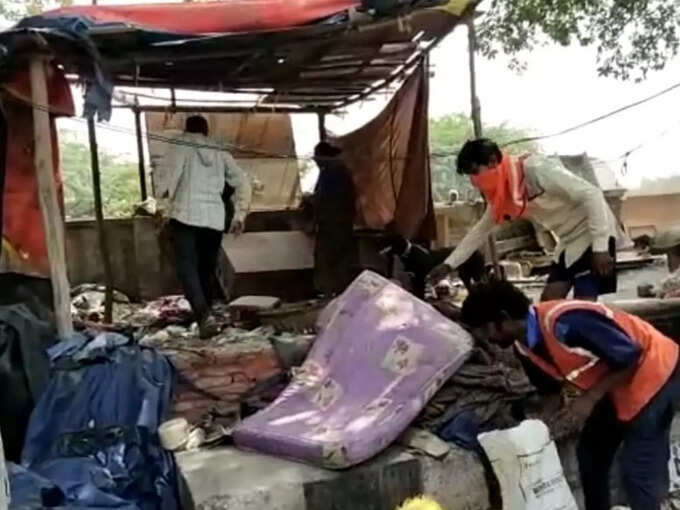 In Rohini too, the bulldozer of MCD is destroying the slums built on the side of the road. People living in these slums say that they have lived here for 25-30 years. If there was any action earlier, they would have been told. This time the workers arrive two hours early and are asked to leave. They allege that even permission was not given to remove the items inside the slum. It is being told that people's ration and water were also present in the slums. CRPF personnel have also been deployed here for security. A woman said that this time we did not get any notice. We couldn't even remove our belongings.
Roadside slums were demolished in Rohini, watch video