MumbaiThere are constant reports about Malaika Arora and Arjun Kapoor that both can get married. Arjun R Malaika, who have been dating each other for 3 years, can tie the knot by the end of this year. Malaika and Arjun made it official on Instagram a few years back in 2019 and the two often post romantic poses with each other. The news of their marriage has been coming for a long time. According to reports, both are all set to tie the knot in November or December this year. The marriage of these two will also take place in a private ceremony like Alia-Ranbir.
Arjun Kapoor reacts to marriage rumours
Arjun Kapoor took to his Instagram Stories to react to the rumors of his marriage with Malaika Arora. He wrote, "Love how everyone knows more about my life than I do."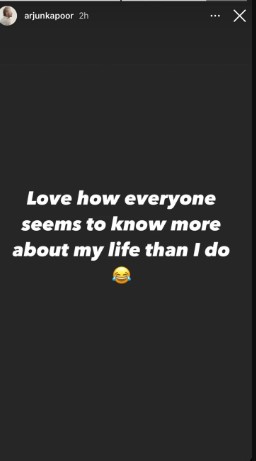 Arjun Kapoor's Instagram story
Arjun and Malaika will get married this year
According to the news published in IndiaToday.in quoting sources, "Arjun and Malaika have discussed marriage in the past as well. In fact, there was talk that they will exchange the ring in a private ceremony sometime in 2021. But due to the pandemic, it is not happening. It didn't happen. They decided to wait longer. Now they can get married though the date is not confirmed yet but the next big step for them will definitely be a wedding."
Malaika Arora is 12 years older than Arjun Kapoor. Malaika is 48 years old and Arjun is currently 36 years old.
read this also –