br>
New Delhi:
The biggest change has happened so far regarding recruitment in the Indian Army. Now Agniveer will be recruited under the Agneepath Recruitment Scheme in the Army, Navy and Air Force. Agniveers will be given 6 months of training and including training they will be part of the army for 4 years. Of these, a maximum of 25 percent will be given a chance to become permanent later, but it will be decided on the need of the army. Protests are now starting in many parts of the country regarding this decision. In many places trains were vandalized and arson, especially in Bihar, there is still a ruckus regarding this. Different opinions of defense experts and other people are coming out regarding this plan. Famous economist Swaminathan Aiyar has advocated this scheme. In an article for our associate newspaper 'Times of India', he has told why it is necessary for the army?

No need to surrender in the face of opposition
The protestors also need to understand that the Indian Army is not a job creation scheme. Swaminathan Iyer says India urgently needs to modernize its military capability, focusing on cyber warfare, drones, missiles and even space warfare. Soldiers' boots on the ground still matter, but less than before. That's why a massive change is necessary. Agneepath scheme is a small step in that direction but an important step. The government should not surrender to the protesters as was done earlier in the case of land acquisition and agrarian reforms.

How much is justified spending more on pension
Currently, most recruits serve for around 15 years and can then receive a pension for 50 years! Defense expenditure on pension is much higher than other military defense expenditure after the One Rank One Pension populist scheme. It is non-essential. Pension and other expenses will be reduced through Agneepath scheme. The money that will be saved in the government's coffers from this can be used for high-tech weapons and modernization of the army. This will make the army more efficient. Agneepath aims to hire 46,000 'Agniveers', of whom 34,000 will leave the service after four years with a one-time benefit of Rs 11 lakh. The average age of the Army will drop from 32 to 26, a huge improvement as younger soldiers tend to be more fit and tough.
Doubts on the future of Agniveers in Agneepath plan, will the army be weakened… Government answered every question
Not only necessary for the army but also for other paramilitary forces
The Agneepath scheme need not be seen only till the army. There are about one million soldiers in the paramilitary forces in India. The largest of these is the Central Reserve Police Force, which has about 3 lakh 50 thousand personnel, which are used for internal security and counter insurgency. Next comes the Central Industrial Security Force with over 1 lakh 50 thousand personnel, which provides security to public sector corporations and departmental undertakings. Railways has a separate Railway Protection Force with 75,000 personnel. The Assam Rifles looks after the security in the North-East, the Border Security Force is deployed along the border with Pakistan and Bangladesh, the Indo-Tibetan Border Police is stationed along the border with China, and the Sashastra Seema Bal is deployed along the borders of Nepal and Bhutan. .

FAQ: These are the questions and their answers, on which there is so much ruckus on Agneepath from Delhi to Bihar
Swaminathan Iyer says that different tasks require different types of expertise. But the current approach of having independent force with different procedures for recruitment is highly inefficient and costly. This is due to excessive numbers, excessive salary and pension payments as well as misplacement of people of the wrong age. Deployment of youth to armed services should be done at the age of 20 when they are most fit. Then train them for paramilitary forces, and later for civil defence. The requirements of each force can be corrected through this general approach.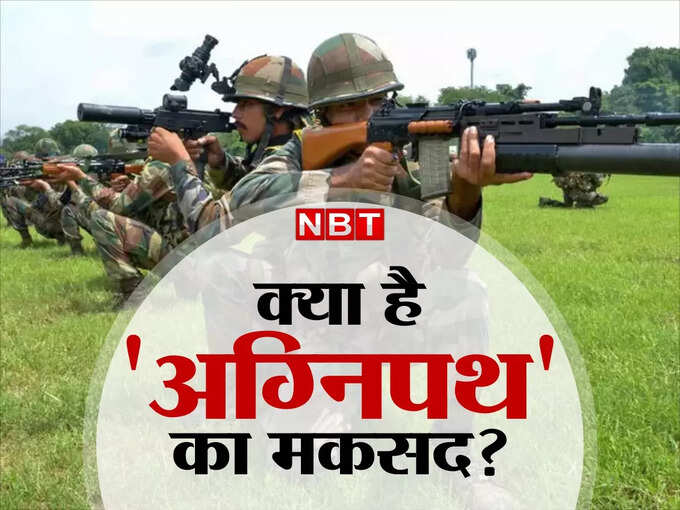 showing unnecessary fear
Some criticizing the plan say that soldiers with only a year or two of experience would not be suitable for war. In World War II, the British Indian Army hired over two million recruits who showed their skills. If he can do it, Agniveer can do much more than that. Some critics have warned that leaving so many gun-trained youth unemployed where there is already so much unemployment would mean driving them to crime, terrorism or violence. The fear is exaggerated. After World War II, countries around the world evacuated about 40 million people. This created a huge unemployment problem everywhere, yet managed peacefully with few exceptions. Most important among all this is the modernization of the army and the government needs to move forward in this direction.