br>
The average age of Indians has now increased to 69.7 years, i.e. on an average an Indian will now live 69.7 years. But in terms of survival, Delhi is on top in the whole country. Average life expectancy in Delhi has increased to 75.9 years. The people of Delhi are living the longest in the country. And the great thing is that in the last 6 years, the life expectancy of Delhiites has increased by 2.7 years and the trend is showing that the age of people is increasing every year. What do the figures say and why is this happening?
Delhiites' age increased by 2.7 years in last six years
Statistics show that the average age in Delhi is increasing continuously. The average age of Delhi in the 2010-14 report was 73.2 years, which increased to 75.9 years in 2015-19. That is, in these six years there has been an increase of 2.7 years in Delhi. Whereas it took 20 years for the average age of the whole country to increase by two years.
Due to these reasons the age of Delhiites has increased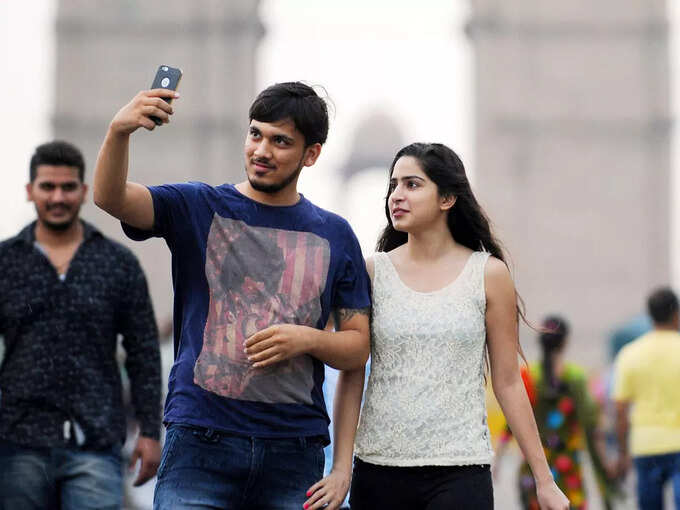 Health awareness has increased among people, coming forward for timely investigation and timely treatment.
The income of Delhiites is also better than other states, people do not lag behind in spending on health.
Health infrastructure of Delhi is world class, better treatment facilities are available at both private and government level.
Many types of health programs are run in Delhi, from newborns to pregnant women and special programs are run for the elderly.
The quality of life of the people of Delhi has improved, good food, good living and good health care facility makes it different from the rest.
What experts say on Delhi's lifestyle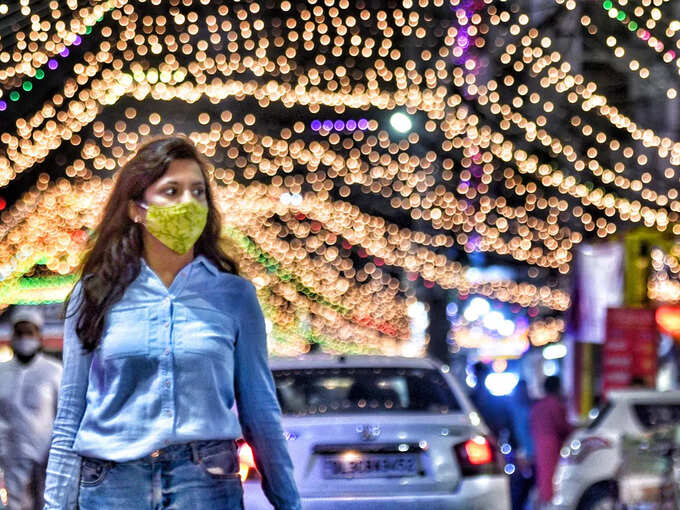 The living and income of the people of Delhi is also better than other states of the country. People are aware and the healthcare service here is also good, due to which the people here live a quality of life. The minimum wage here is also good as compared to other states. For the past few years, people have become alert about their lifestyle. People have now become serious about routine health checkup on time, people are coming forward for timely treatment, since people have good income and they are able to bear the cost of treatment, the situation has also improved. Apart from this, Delhi also has the best health care infrastructure and due to being the capital, awareness is also high here. – Dr. MC Mishra, Former Director, AIIMS
Delhi's health infrastructure is very good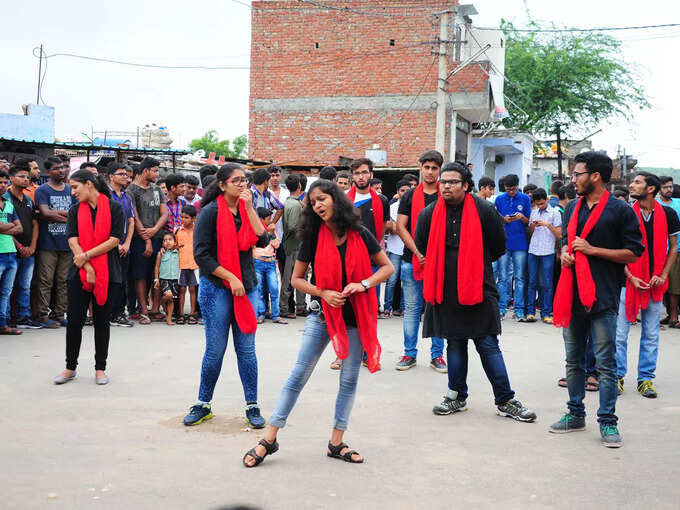 The effect of improvement in education level is visible at every level. People are more aware than ever before. Now the people of Delhi are moving towards healthy lifestyle. There are facilities of yoga, gym, park, there is gym in every street colony, Delhi people are ahead in this. Enthusiasm towards staying healthy has increased among the youth, sports facilities have also increased in schools. Apart from creating health awareness, many types of health programs are run. Whether it is hepatitis or dental, for children or for pregnant women. Similarly, the vaccination program is run. Also, Delhi's health infrastructure is very good, world class facilities are available here. Not only at the private but also at the government level, better facilities are available to the common people for free, due to which people remain healthy and their age increases. – Dr. Mahesh Verma, Vice Chancellor, Indraprastha University
There has been a change in the attitude towards health among all sections of people.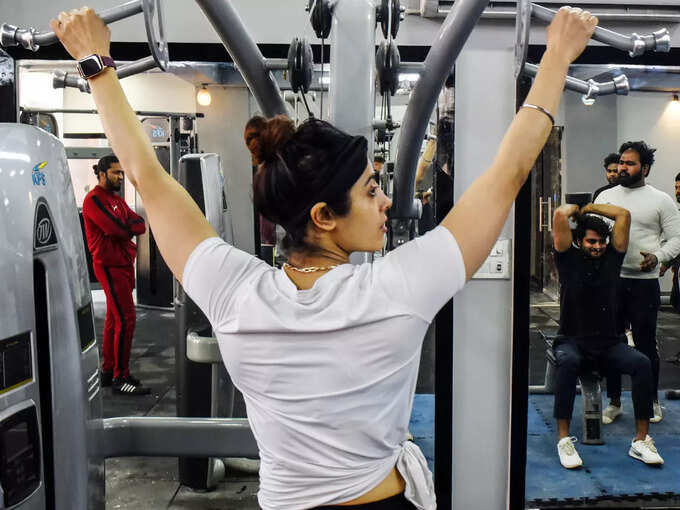 Health education has increased. Infrastructure is very good. Primary care facility is available. Apart from private, modern and super specialty treatment facilities are also available in government centers. The good thing is that the thinking about health has changed in people of all walks of life. People are going to the gym, there is an alert regarding food. Not only this, Delhi people are also close to western countries. Often people keep coming and going, so this kind of lifestyle is coming in them too. Where work is being done at the government level regarding awareness, apart from this, many NGOs also work. From the birth of the child, to the vaccination and there is a facility of specialized treatment for the elderly, due to which people are healthy and their life has increased. – Dr. Jamal Yusuf, Cardiologist, GB Pant Hospital
Here is the data of the average age of the country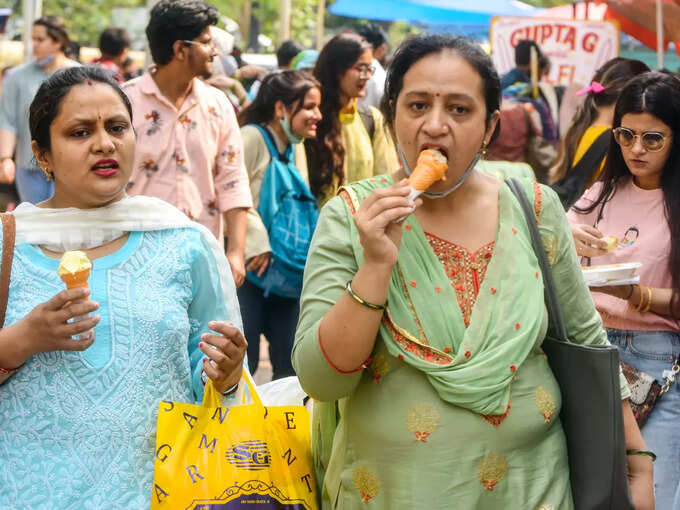 The average age of the country as a whole is 69.9 years
Delhi has the highest average age of 75.9 years
Chhattisgarh's youngest age is 65.3 years
Delhi tops in terms of living
Overall, 75.9 years
Male: 74.3 years
Females: 77.5 years
Rural Area: Total 73.6 Years
Male : 71.3 years
Females: 75.6 years
Urban Area: Total 75.9 Years
male 74.4 years
women 77.6 years
Status from 2010-14 to 2015-19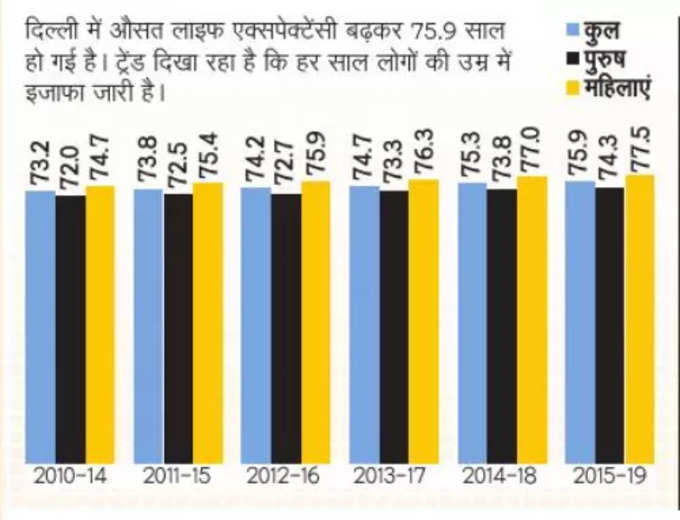 2010-14: Total 73.2, Male 72.0, Female 74.7
2011-15: Total 73.8, Male 72.5, Female 75.4
2012-16: Total 74.2, Male 72.7, Female 75.9
2013-17: Total 74.7, Male 73.3, Female 76.3
2014-18: Total 75.3, Male 73.8, Female 77.0
2015-19: Total 75.9, Male 74.3, Female 77.5