Highlights
Kolkata and Rajasthan teams will face each other for the 26th time in IPL
In the previous encounter of the season, Rajasthan defeated KKR by 7 runs.
Head to head record also a close fight between the two teams
Kolkata Knight Riders and Rajasthan Royals will face each other for the second time in IPL 2022. In the 47th match, both the teams will compete at the Wankhede Stadium in Mumbai. In the previous encounter, Rajasthan had won by 7 runs but there was a fierce competition. In the overall IPL too, the head to head record between the two teams has remained the same till now. For the 26th time in the league, both the teams will face each other.
How is the head to head record?
There has always been a close contest between Kolkata and Rajasthan. Something similar was seen in the first match of this season as well. If we look at the head to head record, so far 25 matches have been played between the two teams out of which 13 have been won by KKR and 12 have been won by Royals. In such a situation, KKR is ahead but according to the current performance, Rajasthan has the upper hand.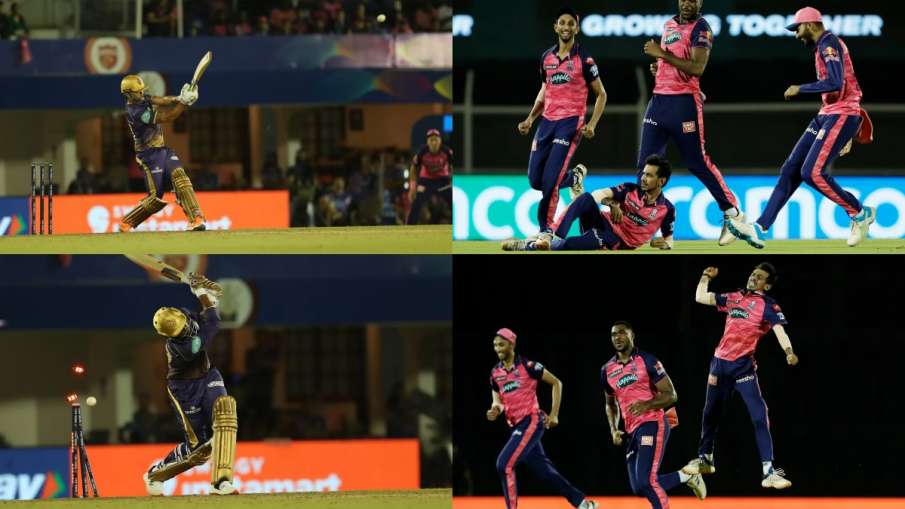 Some pictures related to the 30th match of KKR vs RR
The road to playoffs is tough for KKR!
In the points table, Rajasthan with 12 points after winning 6 out of 9 matches are currently at third place. On the other hand, KKR have suffered consecutive defeats in the last five matches. Kolkata is at the eighth position with 6 points out of 9 after 6 losses and 3 wins. In such a situation, if the team loses today, then its playoff hopes can also be almost over. Each team has to play 14-14 matches in this 10-team tournament. Probably the team will have to win at least 8 matches for the playoffs.
IPL 2022 KKR vs RR, Match 47 Preview: Challenge of getting back on track for Kolkata in front of strong Rajasthan
KKR has played 9 matches and won 3 matches so far. Even if the team wins the remaining five matches, it will have to keep an eye on the performance of the rest of the teams. At the same time, it is looking very difficult for the team to win all the remaining matches. From bowling to batting, no player of the team has been able to leave a special impression so far. Then the real test of the team will be in front of Rajasthan's strong bowling line-up.
,