br>
Highlights
14th round of military level talks between India and China
Pushing forward on retreating troops to Hot Springs
India said, issues should be resolved in Depsang Bulge and Demchok
Army Chief said – the threat on the northern border has not reduced
New Delhi
India, during the 14th round of military talks with China on Wednesday, emphasized the need for early withdrawal of troops from the remaining places of confrontation in eastern Ladakh. Sources in the security establishment gave this information. He said that the Corps Commander level talks were held on the Chushul-Moldo 'Border Point' on the Chinese side on the Line of Actual Control (LAC) in eastern Ladakh. Sources said the talks mainly focused on moving forward the process of withdrawing troops at Hot Springs. The talks started at 9.30 am and went on till evening.
Cipher result of India-China talks
The Indian side insisted on the early withdrawal of troops to the remaining areas of conflict, including the resolution of the issues at Depsang Bulge and Demchok. The thirteenth round of talks was held on 10 October 2021. The talks had ended in a deadlock. Both sides had failed to achieve any progress in this negotiation. The Indian Army had said after the talks that the Chinese side did not agree to the constructive suggestion given by them, nor could it present any forward-looking proposal. This new round of talks took place at a time when India had said that this area is under Chinese illegal occupation for the last 60 years on China's construction of bridges in the Pangong Lake areas in eastern Ladakh.
For the second time, China changed the names of places in Arunachal, understand the whole matter. China renames 15 places in Arunachal Pradesh
The threat on the northern border has not subsided yet: Army Chief
Army Chief (COAS) General Manoj Mukund Naravane said on Wednesday that although the troops may have partially retreated, the threat on the northern border with China has not diminished. Along with this, he also clarified that there has been an increase in the deployment of force from the Indian side. "We will continue to deal with the PLA (People's Liberation Army) in a firm and peaceful manner while ensuring the purity of our claims," ​​Naravane said. Necessary security measures are in place.
Will deal firmly with the Chinese army, Army Chief Naravane gave a message to China as well as to Pakistan
What does India want?
Naravane said that the 14th round of Corps Commander level talks are going on and he expects some positive developments in the coming days. "We hope to resolve the Patrolling Point 15 (Hot Spring) issue in the current round of talks," he said. Once that is done, we will look at other issues before the current impasse. Responding to a question about the positive developments, the top Army official said, "The talks have been going on for a long time. It is good that talks are going on. We have to keep talking to each other.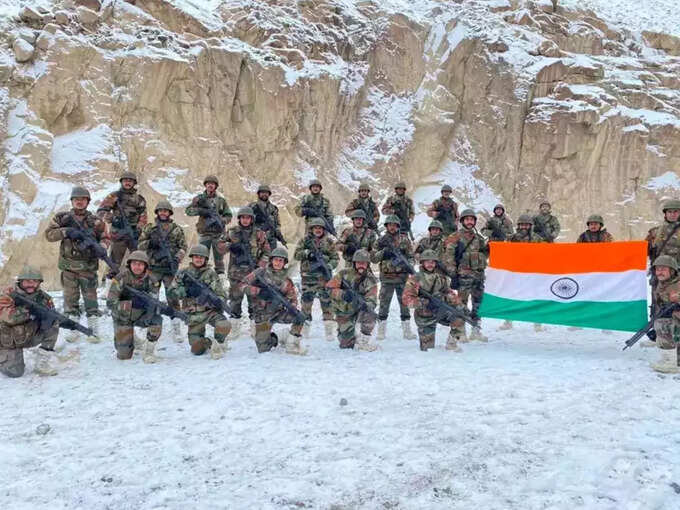 Indian Army in Eastern Ladakh (File)
,