br>
Highlights
BJP has been accused of being anti-Dalit and anti-backward
Attempts to remove the label of these allegations in the first list
60% OBC and Dalit in the first list of BJP candidates
BJP also fielded Scheduled Caste candidate from General seat
Lucknow
BJP has released the first list of candidates for the Uttar Pradesh assembly elections. In this list, BJP has given tickets to 107 people. The special thing about this list is that the list has been made recently keeping in view the BJP's run-off. Meaning BJP has given 60 percent tickets to OBC and Dalit candidates. One special thing is that BJP has given tickets to Dalit candidates even in general seats.
The Bharatiya Janata Party in its first list of candidates has 60% OBC and Dalit candidates. Recently, 14 MLAs who had resigned from the BJP had accused the BJP of being a front party. Everyone had said the same thing that BJP is backward and anti-Dalit.
Yogi Adityanath BJP Candidate
BJP accused of being anti-Dalit and OBC
The leaders who joined Samajwadi Party with Akhilesh Yadav had made serious allegations against the BJP. Swami Prasad Maurya and Dharam Singh Saini, who were ministers in the Yogi government of BJP, said that BJP is only a party of the forerunners. BJP has betrayed Dalits and backwards. To erase these allegations, BJP has now tried to remove this stamp by giving tickets to 60 percent Dalits and Backwards.

Bjp Candidate List 2022 UP: BJP has released the list of 107 candidates, know who got the ticket from where
44 OBC and 19 SC
If you look at the BJP's list, out of the total 107 candidates, 44 are from backward castes. 19 candidates belong to the Scheduled Castes. Apart from this, BJP has given tickets to ten women. Out of 107, 63 sitting MLAs have also got tickets.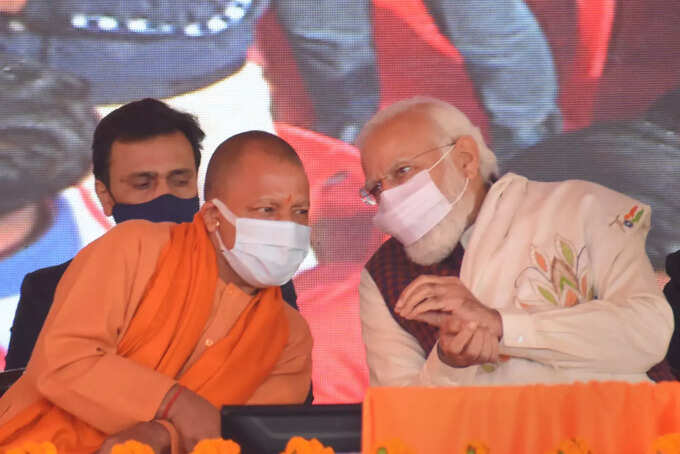 Yogi and Modi (file photo)
,