Microwave is one of the important necessities of today's kitchen. While a solo microwave does a great job of heating and defrosting, a microwave oven can do more things, including baking and grilling. In this way a microwave oven makes your kitchen quite versatile. If you love baking, you will need a microwave for this. And then who doesn't want the best microwave oven in their kitchen. In this list, we have given information about some of the best microwave ovens available in India. It is to be noted that the microwaves included in the list have been selected on the basis of specifications, features and user reviews.
4.  SAMSUNG 21 L CONVECTION MICROWAVE OVEN
Anti-Bacterial Protection
Samsung claims that the microwave oven comes with a bacteria-resistant smooth surface that ensures healthy meals. Moreover, this appliance comes with scratch and crack resistant ceramic enamel interior which is expected to last a long time. Apart from this, it has been given a triple distribution system.
SPECIFICATION
Microwave Power Consumption (output)
:
1200 W
Oven Type

:

Convection
Oven Capacity (ltr)

:

21
Child Lock

:

Yes
5. IFB 23 L CONVECTION MICROWAVE OVEN: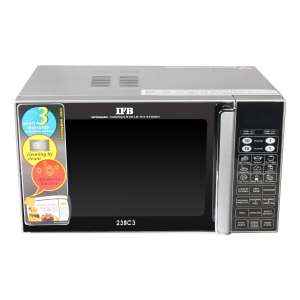 Great option for small families
This microwave oven from IFB comes with a capacity of 23 liters making it the perfect choice for small families. The appliance has been given a Keep Warm feature which serves to keep the cooked food warm.
SPECIFICATION
Oven Type
:
Convection
Oven Capacity (ltr)

:

23
Brand

:

IFB
Child Lock

:

Yes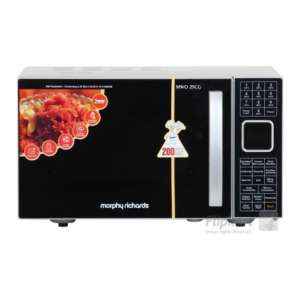 This microwave by Morphy Richards comes with special auto cook feature. The company claims that it allows users to easily cook up to 200 pre-sets of dishes. Users can prepare different recipes with different stage and power settings from the appliance.
SPECIFICATION
Oven Type
:
Convection
Oven Capacity (ltr)

:

25
Child Lock

:

Yes
Overheating protection

:

Yes
List Of Best Microwave Ovens Available In India 2022
| PRODUCT NAME | SELLER | PRICE |
| --- | --- | --- |
| Godrej 19 L Convection Microwave Oven | Flipkart | ₹ 8,490 |
| LG 32 L Convection Microwave Oven | Flipkart | ₹ 17,149 |
| SAMSUNG 35 L Convection Microwave Oven | Flipkart | ₹ 28,000 |
| SAMSUNG 21 L Convection Microwave Oven | Flipkart | ₹ 9,490 |
| IFB 23 L Convection Microwave Oven: | Flipkart | ₹ 9,599 |
| Morphy Richards 25 L Convection Microwave Ove | Flipkart | ₹ 11,999 |
| SAMSUNG 28 L Slim Fry Convection Microwave Ov | Flipkart | ₹ 11,589 |