Highlights
Arun Lal and Bulbul Saha took seven rounds
66 year old Arun Lal marries 38 year old Bulbul Saha
On the question of honeymoon, Arun Lal remembered the Ranji knockout
Former India cricketer and Bengal cricket team coach Arun Lal is constantly making headlines for his second marriage. At the age of 66, he has taken seven rounds with Bulbul Saha, 28 years younger than him. Bulbul is his second wife. His first wife's name is Reena, who is divorced. After marriage, Arun and Bulbul also interacted with the media. According to media reports, Arun Lal has given a great answer on the question of Honeymoon.
Arun Lal and Bulbul Saha got engaged only last month. On Monday, May 2, both of them tied the knot of marriage. After this, both hosted the reception at Hotel Peerless Inn in Kolkata on Monday night. BCCI President Sourav Ganguly also attended his event. After this the newlyweds interacted with reporters and gave interesting answers on their honeymoon as well.
What is Arun and Bulbul's honeymoon plan?
Arun Lal and Bulbul Saha interact with reporters after their wedding and reception. Arun Lal said, "I am really happy. I have a wonderful opportunity in life again. I love him (Bulbul) very much. We will be a good couple for life." During this, both of them were asked about their honeymoon, to which Arun Lal said, "Ranji Trophy is our honeymoon."
Arun Lal Marriage Photos: At the age of 66, Arun Lal became the bridegroom again, the former cricketer married Bulbul, 28 years younger
Actually let us tell you that the second phase of Ranji Trophy 2022 is to start after IPL 2022. The coach of Bengal's team is Arun Lal and his team will play against Jharkhand in the quarterfinal match from June 4-8. This match will be played at M. Chinnaswamy Stadium, Bangalore. It is expected that both will go to Bangalore together and there Bulbul will also be seen cheering them along with her husband's team.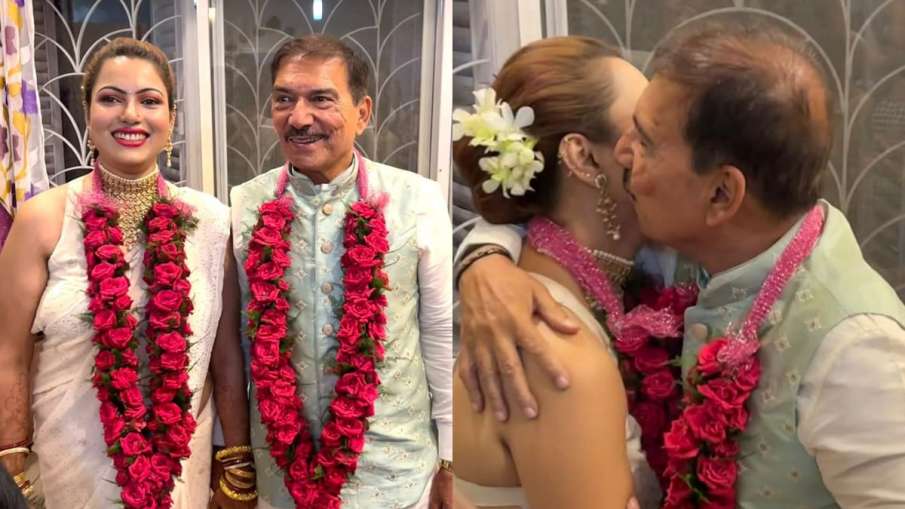 Arun Lal kissing wife Bulbul Saha after marriage
Who is Bulbul Saha?
Bulubal Saha is a school teacher by profession and according to her Facebook profile she teaches at St. Paul's Mission School, Kolkata. According to the information, Bulbul also likes cooking. He also participated in a cooking competition in the year 2019. She and Arun Lal are also friends for a long time.
,